Iv been blessed with 3 bottles of good whiskey, but Iv never been much of a whiskey taster, so Im trying to do this as best I can.
The 3 are…
Talisker, Single malt, 10 years (45,8 %)
Balvenie, Single malt, 14 years (aged on rum casks) (47,5%)
Tomatin, Single malt, 15 years (43%)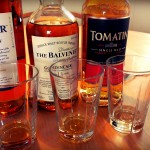 Smell
Smoke, rye

Sweet, dark & light at the same time
Clear caramel
Taste (No water)
Heavy, citrus

Vapor,spicy, oak
Caramel, less pronounced compared to the others
Taste (with water drops)
Opens up more that without. More oak, more depth and harmonie

Less vapor, more acidity
More balance, silent finish.
Compared to drinking rum, which I prefer, this is very different. Theres clearly less sweetness to it, but also many other tastes.
What do you think?